UGRID, EL SOFTWARE DE GESTIÓN ENERGÉTICO
La solución inteligente para analizar y monitorizar tus consumos energéticos.
uGRID
es un producto tecnológico desarrollado por
MIWenergía
y la empresa de innovación TIC de la Universidad de Murcia.
Somos una empresa energética con espíritu innovador que apuesta decididamente por la eficiencia energética y el respeto por el medio ambiente.
La plataforma uGRID tiene como objetivo la digitalización de consumos energéticos con el fin de proporcionar al consumidor final mayor información sobre su demanda de energía eléctrica y conseguir la máxima eficiencia energética posible.
SOBRE NOSOTROS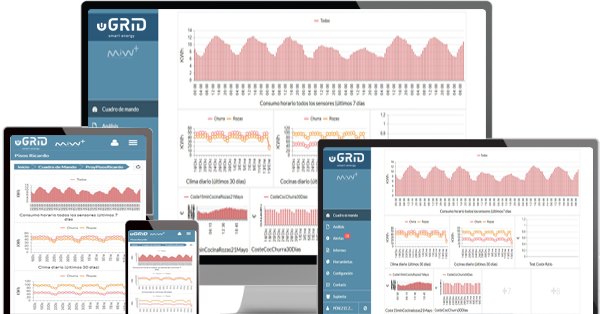 VENTAJAS PARA EL PARTNER
uGRID es el software que te proporciona una potente herramienta para la mejora de la eficiencia energética de tus clientes.
LICENCIA
Escoge la licencia que mejor se adapte a ti.
TOP

Toma de datos: Tiempo real
Frecuencia de datos: 15 minutos
Disponibilidad 24h: Sí
Plataforma personalizada: Sí
Panel de control: Sí
Informes automáticos: Sí
Alertas: Sí
Precios de mercado: Sí
Simulador de facturas: Sí
Curvas Cuarto horarias: Sí

Solicitar

PRO

Toma de datos: Una vez al día
Frecuencia de datos: 15 minutos
Disponibilidad 24h: Sí
Plataforma personalizada: -
Panel de control: Sí
Informes automáticos: Sí
Alertas: Sí
Precios de mercado: Sí
Simulador de facturas: -
Curvas Cuarto horarias: Sí

Solicitar
Leading 5 Best N64ROMs to Play
Nintendo's groundbreaking Project Fact has actually transformed the means we think of video gaming. These 90s consoles offered really effective 64-bit hardware and also an effective facilities for video game growth.
Because of this, only the most effective console variations were released.
The style of the N64 is a breakable cookie, however the makers of mods and also fan games have actually striven throughout the years to gather their favorite games, catch their fundamental style and also establish them.
Right here we would love to share the most unexpected results of their initiatives. All these amazing N64 ROM hacks are available online totally free and also offer several brand-new b-functions to upgrade your preferred N64 nintendo 64 emulator games.
Super Mario 64: Last Effect (SM64).
This is not the very first time Kaz Emanor has actually passed one of the ROM hack ratings.
The remediation of this astonishingly brilliant as well as innovative timeless SM64 can not be fully finished.
Completion result was to be anticipated.
You can finish brand-new levels, brand-new challenges and also brand-new employers, yet introduce brand-new auto mechanics like Super Mario Sunlight FLUDD and Riding Yoshi to reach new levels.
It is a technical wonder full of unconventional sources. This is a kind of spiritual successor or unofficial collection that is really different from the initial game. That you intend to play completely well.
GoldenEye X (entirely dark).
The original suggestion was to boost 007's golden eyes.
And also I was really confused when I recognized that I needed an entirely dark ROM for this.
Instead of improving the initial GoldenEye engine, this hack will bring all of GoldenEye's multiplayer degrees, weapons, as well as personalities to the full Dark Engine. He likewise shops PD weapons and also personalities to raise their variety.
Among one of the most useful attributes is the enhancement of approximately 8 little bits to multiplayer setting. It was not possible with the initial gold eyes.
This is just one of those insane methods that you will absolutely like.
Super Mario 64: Lost Celebrity (SM64).
One more terrific SM64 hack is Lost Stars. We are adding a great deal of new material and tweaks to the first feature B of the game for a much more enjoyable experience.
New features consist of a revamped day/ night soundtrack that influences accessibility levels, upgraded proprietors, brand-new enemies, and brand-new customized beats for missing celebrities.
The soundtrack is wonderful.
If you're brave, you can additionally play as Luigi with no significant adjustments to the game. Yet it enables you to show your love for older brothers and sis.
Anniversary of Zelda (Time Ocarina).
We talked about several of the popular heroes of the moment and also several of the ROM hacks connected with his journey.
Nevertheless, none vary substantially from the original story.
Zelda Schedule offers customers a whole brand-new experience as well as changes the development of relationships through soil, discussion and shared purpose.
There are 3 totally upgraded spaces, side questions as well as other touches to the way you play.
This is something you don't typically see in LoZ games.
F-ZERO X Orgasm (F-ZERO X).
Another excellent ROM hack for the very same purpose is F-ZERO X Orgasm. Instead of including an entirely new track, we moved the scene from the only GBA title in Japan – F-ZERO Climax.
The author made sure that he is well tuned to collaborate with this engine. This consists of including additional ramps and leap pads to make each run a lot more vertical.
Not fitted for this engine, this vehicle seems a little weird at times, but it's not noticeable that the skill of the initial GBA designer isn't noticeable.
Importing banned steroids into the UK should be made illegal, says UKAD – Cycling Weekly prescription steroids australia how an arm wrestle resolved a major airline dispute